I used to wait tables at an Applebees in Tallahassee, Florida. Although the customers tipped me very well, those tips were just enough to cover groceries, gas and pay my third of the rent. I was young, single, and unencumbered with the typical trappings of adult life.  Reality didn't stress me out much back then and I often blew a chunk of my tips on a few beers with friends after my shift was over. I was sometimes haunted by the fact that I would never be able to buy a home, take a vacation or handle any major unexpected expenses with what I earned waiting tables there. I had other career aspirations, but realized a few twists of fate could easily put me in a position where life wasn't so rosy. I vowed that one day after I "made it" I would hand out big, fat tips to random strangers working in the service industry. 
Over the decades, I have given out the occasional large tip on a small tab. It always felt great, but those times also reminded me that I had not fulfilled the promise I made to myself to become the philanthropist who dolled out much bigger, life-changing tips. The hard truth was that I often needed the money that I was giving away. 
I often tried to convince other philanthropists to adopt the idea as their own, including tweeting at Jeff Bezos when he mentioned looking for great ideas for charities.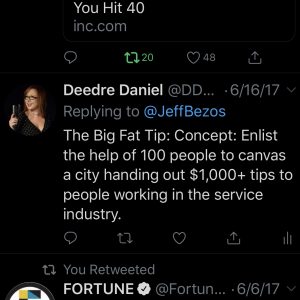 I am still not in the position to throw $1,000+ tips at people. I am in the middle of middle age and stuck in (what feels like) the middle of middle class. 
I did not want to give up on my dream and I started thinking about other ways I could make this work. I thought maybe, just maybe, I could convince others to donate to the cause.  And I thought maybe I could convince the Internal Revenue Service to buy in on the idea so donors and sponsors could get a tax write-off, too. And they did! So here we are: Welcome to The Big Fat Tip™ 501(c)(3) website and blog! 
Now I need to convince you to donate, because I can't continue to use my retirement savings to fund this nonprofit. Any amount helps: If 100 people throw in $10, we will have another $1,000 to give out! With your help, we can surprise more hard working people and spread around a little more joy all over the United States. Please encourage your friends, family and employers to donate, too! 
Let's pay it forward, together. 
Deedre Daniel, Founder of The Big Fat Tip, Inc. and The Interesting Conversations Company®